Vandyke Upper School celebrates student's Olympic status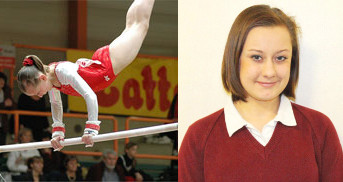 Vandyke Upper School is fully embracing this year.s Olympics in London, and celebrating the honour that has been bestowed on one of its students, Emma Marks.

The Olympic Flame will start its journey on May 19 in Sennen, Cornwall and will reach Emma in Luton on the July 9, before continuing on into London to herald the beginning of Britain.s first Olympic Games

since 1948.

There will be 8000 torchbearers this year and all have been nominated by someone they know and whom they have inspired. Emma was nominated by her mum Jennifer, for her outstanding commitment to her local gymnastics club, as a gymnast, coach and young leader.

Jennifer said proudly: .Emma is a year 11 student and takes her school work seriously, but she doesn.t let this stop her using her vast knowledge of the sport to support the younger children to increase their skills and confidence. From youngsters attending the club birthday parties, the many children who attend the camps during the school holidays, to the regular coaching sessions that she leads twice a week, my daughter is always there ready to give her all, and still manages to hand her homework in on time!.

The torch is made from a special Aluminum alloy developed for the aerospace and automotive industry, and also has 8000 small cut-out circles representing the 8000 inspirational torchbearers meaning that the torch itself weighs only 800g, so petite Emma should have no trouble carrying it through her part of the journey from Luton to Oxford!
Emma, who will be celebrating her 16th birthday just before the event said: .My mum nominated me last July and I didn.t think I would hear about it again, but in November I found out that I had been successfully chosen from the short list. I was really happy about it, but nervous too!.

Emma is not sure how far she will be carrying the torch but she does know that her part of the relay starts very early in the morning!

Emma is now a qualified British Gymnastics Club judge enabling her to judge county competitions. Obviously her family and school are very proud of her, but to have the Olympic Committee confirm this is a real treat!
Posted on: 15/05/2012